Ironic (The Kinky Connect Chronicles Book 1) by Harper Miller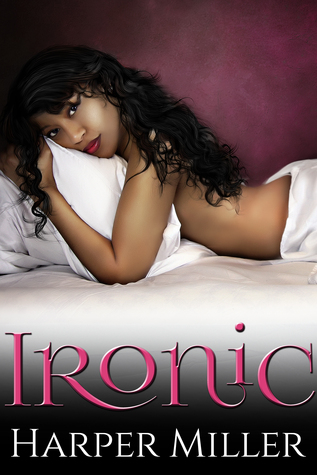 4 out of 5 Stars
Mimi has been in a bit of a dry spell, and her sexual appetite just isn't happy about that. She creates a profile on a kinky website and meets sexy, dominant Aden. Aden is older and knows exactly what he's looking for in an intimate encounter. After a steamy video chat, Mimi and Aden agree to meet up the following night for one night of mind-blowing kink. But one night is all Mimi offers. She doesn't do do-overs.
Ironic is a steamy short story, so be sure to read it alone or have your special someone nearby. It's a very quick read that will leave you panting for more. I loved that both characters were confident and not at all interested in hiding what they were after. They found each other on a kinky website, so why be shy? Aden definitely has a dominant personality that comes through in the way he interacts with Mimi. Mimi, whose profile lists her as submissive, was a bit more forward than I expected when speaking to someone she wanted to dominate her, although she made no secret of the fact that she wouldn't mind a little punishment.
The only drawback of this story is that it's too short to really get into a lot of kink. It's more of a "wham, bam, thank you, ma'am" story. But you won't be disappointed if you're looking for some heat! I enjoyed this short and would definitely read more from Harper Miller.
Happy reading!
Rach