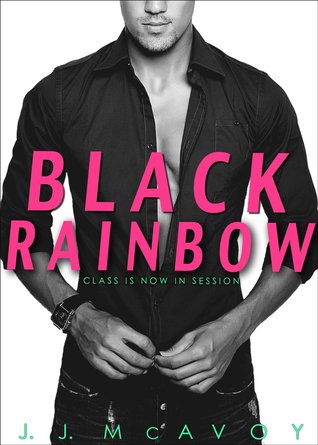 4 out of 5 Stars
*I was provided an Uncorrected Galley of Black Rainbow through NetGalley in exchange for an honest review.*
With a childhood like Thea Cunning had, it's no wonder she doesn't have real relationships or let anyone into her life. She's set on one thing: becoming the best lawyer she can be to prove her father's innocence and get him out of prison. When she meets sexy musician Levi Black in a bar, their agreement to have one week of great sex and then go their separate ways seems perfect.
Levi Black focuses on his career and not much else since he found his ex-wife in bed with his former business partner. He's the top criminal attorney in the state, and he's also a professor at Harvard Law. When his erotic week with Thea ends, he finds her sitting in his class the next morning. He wants to pursue a relationship with her, but Thea doesn't make it easy since she hides her past. When she finally opens up to him, Levi has a secret of his own he needs to keep. The truth always comes out though, and they both will need to set aside their attraction and their differences to work together to free an innocent man.
Black Rainbow is a new adult romance that had me riveted for the second half of the book. Once we learned more about Thea's relationship with her mother and what happened to her father, the pace picked up and had me intrigued. But the first part of the book dragged a bit. It switched back and forth between the week Thea and Levi spent together and the beginning of their relationship as student and teacher. While it was good to see how they got together and learned some things about each other, it felt a little overdone with all of the sex scenes. I would have enjoyed it much more if we got one or two glimpses at their wild sex life and then moved on, focusing most of that information on their relationship outside of the bedroom.
Part two of the story did get things moving, and I was glad I stuck with it. It focused more on the actual plot of the story: Thea and Levi's relationship as student and teacher, and Thea's determination to prove her father's innocence. Although she didn't like some of the things she had to do to get what she wanted, Thea actually listened to Levi's advice about using whatever she had available to her. She made allies in her class and continued to prove herself as the top student. She was a very strong, independent character, and I enjoyed watching her grow even further.
Levi was also strong and intelligent, and I loved that he was willing to put his career on the line for what he thought was right even if it might not win Thea back. He didn't turn into a lovesick puppy only focused on getting the girl. He kept his wits about him, but he never gave up on their relationship.
I wish there had been a little more discussion of the student/teacher relationship toward the end. At one point there was a threat of one of the characters exposing them, but once they exposed themselves there were seemingly no repercussions. It seemed like the forbidden nature of their relationship was dropped from the plot.
The copy of Black Rainbow I was provided was an Uncorrected Galley. There were quite a few mistakes in it, but I did not take those into consideration when rating this story. Hopefully they will be cleaned up prior to publication.
Overall, the story was a good read, and I would likely read more by this author. Black Rainbow is currently available for pre-order on Amazon and will be published on May 15, 2015.
Happy reading!
Rach