Famous (The Famous Novels Book 1) by Kahlen Aymes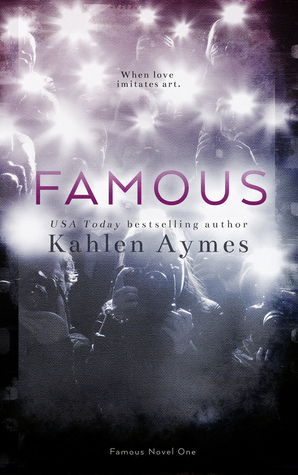 2 out of 5 Stars
Brooklyn Holloway and Caden Carlisle meet on the set of a movie they're starring in together, and the attraction is instantaneous and undeniable. But Brook has a boyfriend she's been dating for a few years. Cade's heart is ripped out every time David comes to visit Brook on location. Cade wants nothing to do with the Hollywood glitz and glamour, or with the women throwing themselves at him all the time. He only wants Brook. When Brook realizes she can't live without Cade and breaks up with her boyfriend, everything should be perfect—except it's not. A clause in their contracts forbids them from having a relationship, and they have to hide the feelings that have been dying to be set free all this time.
Famous is a celebrity romance with two sweet main characters. They want to be together, but first Brook's boyfriend and then their contracts hold them back. They have to resort to sneaking around and hiding their feelings in public, all while Brook pretends she's still dating David. I enjoyed seeing a Hollywood good-guy, with Cade's character being honest and dedicated. Although celebrity romance is a genre I typically love, I didn't enjoy this book very much.
To start with, the love triangle was a little overdone. Right off the bat, we knew Brook and Cade had strong feelings for each other and Brook was blasé about her boyfriend. Actually breaking up with David was very drawn out. Brook was back and forth over her feelings for too long. Several of the situations within the triangle were cliché, like breaking up with David in public and paps taking pictures, which Cade then misinterpreted, and then he wouldn't speak to Brook and immediately went out with someone else. Once Brook and Cade were finally together, it felt like every other line between them was "I love you," and they constantly had to reassure each other. Both characters were too insecure over their relationship, which was supposed to be some great connection between them. One of Brook's main insecurities was that they loved each other as people, not just as the characters they portrayed, yet they constantly used lines from the movie to express their feelings.
As far as the general plot goes, not much happened and not much was resolved. Brook and Cade got together and agreed (rather early on) they would get married, but they had to hide their relationship. At the end of the story, Cade had officially proposed (with a ring Brook couldn't actually wear in public), yet they were still hiding the relationship and we didn't know how much longer they'd have to hide. No decision had been made on whether there would be a second movie, which would bind them to their contracts for longer. Also, the story was clearly written to mimic a pair of real life celebrities, with not nearly enough details changed to make it original. There were even some similarities to the movie those celebrities starred in together.
Unfortunately, this book also needed a good editor. There were tense changes, comma splices, and incorrect homophones all over the place. There were also little inconsistencies an editor should point out, like when Brook put her sunglasses back on even though she had never taken them off in the first place.
I really wanted to love this book since it was based on celebrities I like, but it needed a clearer direction, more editing, and more originality.
Happy reading!
Rach