Guessing at Normal by Gail Ward Olmsted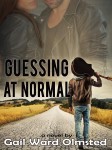 3 out of 5 Stars
*I was provided a copy of Guessing at Normal by the author in exchange for an honest review. I am not compensated for my honest opinion.*
Jill Griffin lives a quiet life, struggling to pay her bills while working at a motel. When sexy rocker James Sheridan stays at the motel, he steals her heart before moving on to the next city on his tour. A little while later, James asks her to join him on the road. She's happy to live in his shadow as he tours with his band, until his band breaks up and they are left struggling to survive once again. James turns Jill's poems into hit songs and it skyrockets him into fame, but they'll have to survive his drinking, touring, and wandering ways. Jill eventually finds her own fame as a songwriter, but she still struggles to hold on to the love of her life.
Guessing at Normal is a different kind of romance, spanning about two decades as it follows the main characters from meeting, falling in love, destitution, fame, and ultimately struggling to stay together in the wake of all that fame. It's told through snippets of Jill's life mixed with some of her journal entries and letters to friends and family. Although I enjoyed the format, at times it had drawbacks.
Because many of the scenes were told in snippets instead of full scenes, I didn't have much of a chance to connect to the love between Jill and James. The focus seemed to be more on the bad times or things they had to overcome rather than the building of their relationship. There were many times throughout the story where I couldn't understand why Jill didn't just pack up and leave James, and that was mostly because I didn't get why she loved him so much.
I also had difficulty with the amount of times Jill had to lie to her friends and family to cover for James. Sure, if you love someone you want to protect them, but that was another strike against their relationship. If James loved her as much as he said he did, he never would have done most of the things he did. I'm not a fan of stories that contain cheating, so I found it hard to get over James' indiscretions. Perhaps if it had only happened once and then he proved how much he loved Jill in order to win her back, I might have been able to see her taking him back the first time. But it didn't seem like he did anything to prove his love, yet she just took him back—twice.
There were some editing issues in this book that also made it more difficult for me to enjoy. Tense changes, incorrect punctuation, and unnatural dialogue should have been cleaned up by a good editor.
Overall, I just didn't really see the point of the plot. I typically love rock star romances, but since it felt like the romance was missing, I was left wondering what the point of the story was. It was decently written and showed what it's really like to be a struggling musician and then to have fame thrust upon you, so I'm sure some people will enjoy it for those reasons. I just couldn't connect with the characters enough.
Happy reading!
Rach