Finding Purgatory by Kristina M. Sanchez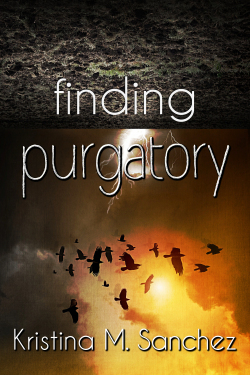 5 out of 5 Stars
*I was provided a copy of Finding Purgatory by the author in exchange for an honest review. I am not compensated for my honest opinion.*
Ani Novak's beautiful life is shattered in the blink of an eye. Lacking direction after her family is shattered, she seeks out the little sister she walked away from when Ani was nineteen. Ani's not sure if she wants to make amends or just reconnect with someone who doesn't have a reason to pity her.
Tori Kane barely remembers her big sister or her parents, and having grown up in foster homes, she's never known unconditional love. On the brink of turning eighteen, Tori thinks she has life all figured out, until her sister walks back into her life and Tori finds herself in a situation she can't handle alone.
Neither sister knows how to deal with their new life or how to find happiness. But perhaps by leaning on each other they can find some middle ground. They might not be able to grasp the brass ring, but just maybe they can find purgatory.
Finding Purgatory is a contemporary story that incorporates women's fiction with some new adult. Told in third person point of view, we are treated to the lives of both sisters—one who is just becoming an adult and one who has to put the pieces of her life back together. Ani has guilt over leaving her little sister once she finds out Tori didn't get a happily ever after with an adoptive family, and she's also feeling guilty over how she had to back out of the lives of her in-laws. Tori thinks she's got life all figured out. She'll soon be eighteen and be able to leave the foster system behind.
The story showed the true emotions of both women, at times so emotional it brought me to tears. It had a very true-to-life feel to it. Nothing was sugar-coated. Being pregnant is not always a blessing, and Tori's pregnancy was an interesting contradiction to Ani having just lost her very young daughter. Neither sister knew quite how to handle the pregnancy, and we got to experience their raw emotions as they felt them. Both Tori and Ani showed tremendous growth throughout the story.
The secondary characters also had a very real feel to them. Raphe was extremely patient with Tori, yet at times his frustration showed through. West was quite a charmer but also offered pearls of wisdom to Ani just when she needed them most. I really enjoyed Shane and Ian's story as well. There was a lot of activity packed into this book, but Ms. Sanchez did a great job of incorporating it all and making it feel natural.
Although this definitely falls into the category of "happily ever after," it also offers a difficult life lesson. Life can be messy and far from perfect, but snatching your moments of happiness and holding on to them makes all the difference.
The few minor editing mistakes did not detract from my enjoyment of this book. I would definitely read more by this author.
Book Links:
Rach