Unmasked (Volume 1) by Cassia Leo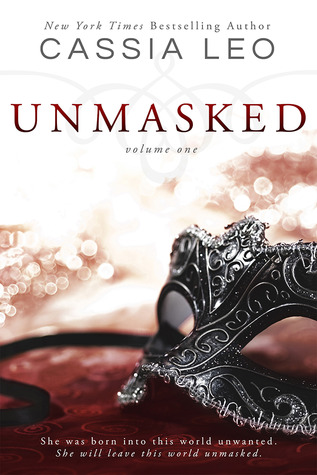 5 out of 5 Stars
After being hidden away by her parents for so long, eighteen-year-old Alex moves out on her own but still chooses to keep to the shadows. She only goes out at night, and even then Alex wears a hood, sunglasses, and black clothing. She lives a simple life, but she is no simple girl. She was trained from a young age to be a lethal weapon by her Special Ops father.
Alex's life is monotonous until one night she witnesses a murder on her way to work. A detective shows up at her door to question her and make sure she's okay, but Alex isn't sure she can trust Daimon is who he says he is. She begins to let her guard down and let Daimon into her life bit by bit, yet something is still amiss in Alex's world. She'll need to figure out what's going on and protect herself if she wants to survive another day.
Unmasked is a dark romance that will leave you on the edge of your seat wondering just what is going on and what's going to happen next. There's not much I can tell you without spoiling the plot other than it's a wonderful page-turner. The story is definitely dark, has elements of romance, some mature scenes, and it's intriguing.
The author's style was very matter-of-fact, although that didn't seem to hinder this book at all. We don't get a ton of background information, and I was left with some questions like why Alex was so paranoid and why she had all of this military training and a stash of weapons. But even so I thoroughly enjoyed the book.
The romance with Daimon was thrilling and hot. There was lots of chemistry and sexual tension between Alex and Daimon, and I enjoyed how he brought her out of her shell a little at a time. He accepted her with no questions asked and determined her beauty not by her looks but by the person who was on the inside.
This story is volume one in a series, but it stood well on its own. Not everything is resolved at the end, but it came to a satisfying conclusion. The loose ends actually seemed to fit with the dark theme of the book.
Overall I really enjoyed this novella, and I'd definitely read more by this author and more in this series.
Book Links:
Rach