By Sea (Supernatural Renegades Book 1) by Carly Fall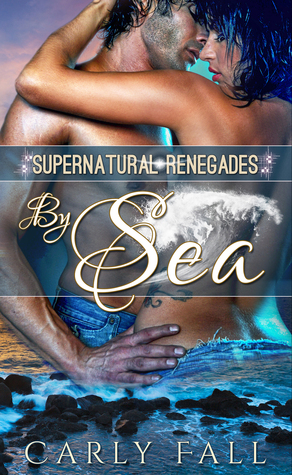 3 out of 5 Stars
Brody Teller doesn't have much left in life. As a former Marine, the government has demanded his silence and is forcing him to live a quiet life, hiding the fact that while on his last mission, an explosion left him with a supernatural power. He has a connection to the ocean—so much so that if he's away from it for too long he becomes ill. When he's offered a job that gets him out from under the government's thumb while also putting him on a boat full time, he has nothing to lose and takes the job of Captain and security guard.
Rayna Lopez is trying to work her way up from her desk job in the CIA. But when her father asks for her help to protect her sister, Rayna accepts because family comes first. The sisters board a yacht to help keep them out of harm's way while their father deals with her sister's stalker. Rayna feels an attraction to Captain Brody, the man she was previously assigned to check on who she knows has a supernatural ability. But with their time short and danger lurking, starting a relationship is the last thing either of them can afford. Brody's on the run from the government and Rayna needs to return to her government job, so they're doomed before they even get started.
By Sea is a contemporary paranormal romance with a touch of military, some action, and some drama. The hero is a former Marine, and we see a bit of his past and the mission that ended his military career. There's also involvement from a drug cartel. The hero and heroine have to work together to save Rayna's sister in addition to their budding romance. The paranormal aspect comes in the form of Brody's ability to control the water. Dolphins seem to flock to him and communicate with him, but his moods are also reflected in the temperament of the ocean.
The plot was interesting and had a nice mix between the romance, drama, and action, keeping me engaged and curious to know what was going to happen next. Brody's supernatural ability was an interesting addition, although it didn't seem to add much to the story. We were shown how it worked early in the story and little bits were carried through Brody's point of view, but other than using the power once during the climax it didn't have much impact on the rest of the plot.
Some parts of the plot didn't quite fit and drew me out of the story. Rayna's father was head of a drug cartel, which happened to be involved in Brody's accident—a little too convenient and not really necessary. What really threw me was that Rayna could be part of the CIA without anyone knowing her father was the leader of the drug cartel. It was explained as not being listed on her birth certificate, but considering how she had continued contact with him her whole life, it wasn't plausible that she could have gotten through a background check. There was also a specific reference to Rayna being denied an agency cell phone because of her family lineage, so someone must have known her link to her father. I was able to figure out the issue that led to the boat's whereabouts being located without any problem, which dampened the climax for me.
While some chapters were short and choppy, some of the story focused too much on telling instead of showing, and there was too much repetition. Although told in dual points of view, the repetition came more from the actual narrative rather than overlapping scenes told by both characters. I also found the dialogue a bit stiff and unnatural.
Even with some editing errors that I found while reading, I mostly enjoyed the plot. Although part of a series, this book is a standalone. Three stars for this supernatural romance.
Book Links:
Rach