PUCKED Up (The PUCKED Series Book 2) by Helena Hunting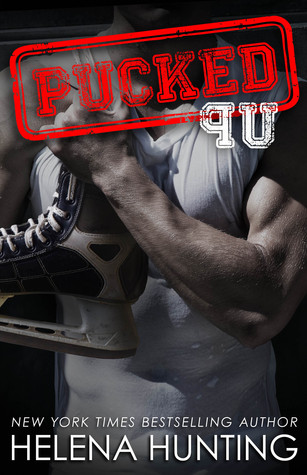 4 out of 5 Stars
*I was provided an ARC of PUCKED Up in exchange for an honest review. I am not compensated for my honest opinion.*
Miller "Buck" Butterson has five years of playing in the NHL under his belt, as well as five years of scoring with puck bunnies off-ice. After meeting his teammate's sister, Sunshine "Sunny" Waters, Buck's ready to settle down with a real girlfriend. But his reputation precedes him, and Buck has a knack for getting himself into situations that look worse than they are. As much as he wants to make things work with Sunny, there's still a good chance things won't work out. Maybe Buck's not up for this off-ice challenge, and maybe Sunny's not ready to trust him with her heart.
PUCKED Up is a romantic comedy that will have you laughing through the pages at all the situations Buck finds himself in. The cast of secondary characters only adds to the amusement. There's his stepsister Violet, who has a tendency to overshare about her love life; Buck's best friend Randy, who continually compounds Buck's troubles; and Buck's teammate Alex, who is Violet's fiancé and Sunny's brother, and who doesn't want his baby sister dating a playboy like Buck.
Buck not only has his past to overcome, but he also has trouble reading because of dyslexia. Although his issue is nothing to laugh at, it's incorporated into the story in a way that makes his situations more amusing. Buck prefers to use the speech-to-text and text-to-speech functions on his phone to avoid making spelling mistakes or reading something incorrectly. Unfortunately, he sometimes still misses things—like the time of his flight being six o'clock instead of nine o'clock and the length of time he's supposed to leave hair remover on his skin.
This story is a standalone in the PUCKED series. It can certainly be read on its own, but I couldn't help feeling like I'd missed something by not having read the first book. This book starts when Buck and Sunny have already been seeing each other for about three months and Buck has already started trying to reform his playboy ways. I would have liked to have seen more of the beginning of their relationship and how they met instead of being told so much of it. And as much as it was clear that Buck used to be a playboy, we didn't get to see any of that. Instead there was a lot of Buck telling the reader what he previously would have done if it weren't for Sunny being in his life.
Overall, this was a truly enjoyable story that had me laughing out loud. I would definitely read more by this author and more of this series.
PUCKED Up will be available on October 25, 2015 but is currently available for pre-order.
Book Links:
Rach