Falling From The Sky by Nikki Godwin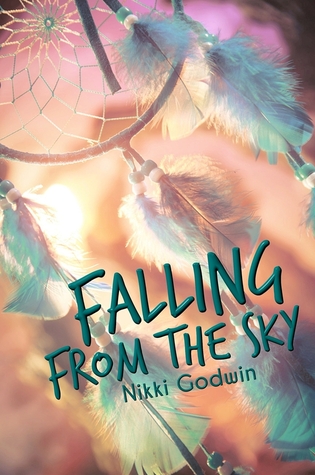 5 out of 5 Stars
*I was provided a copy of Falling From The Sky by the author in exchange for an honest review. I am not compensated for my honest opinion.*
Sixteen-year-old Ridge McCoy hopes that summer basketball camp will not only improve his jump shot, but his life as well. He's been in a holding pattern ever since his father's death in a plane crash, and he doesn't know how to deal with his mother, his brother, or even his girlfriend. When the carousel operator at the local mall, Micah Youngblood, offers to show Ridge what each of the carousel horses mean to his tribe, Ridge reluctantly accepts. It has to be better than hanging out with the guys at basketball camp, who are only interested in girls and beer.
As the friendship between Ridge and Micah grows, so do deeper feelings, as well as Ridge's confusion. There's nothing wrong with a summer fling, but Ridge may be doing some falling of his own and he'll have to decide if this relationship can stand the distance.
Falling From The Sky is a young adult male/male romance about two high school boys—one who is sure of his sexuality and doesn't need labels, and one who thought he was sure of his sexuality but begins to have questions. The YA M/M plot was a departure from what I typically read, and I'm glad I took a chance on this book.
When the story started, Ridge was a bit of a mess, beyond typical teenage drama and hormones, and hoping summer camp would be the escape he needed. Ridge's father had passed away in a plane crash and he didn't know how to deal with the remaining feelings. He also didn't want the pity that came along with his father's death and suspected his girlfriend only stayed with him because of that. His characterization pulled me in right away, and I fell in love with the boy who stopped in the middle of parking lots and prayed for airplanes.
The confusion of his life carried right through the story to when he met a strange new friend, developed feelings and had to deal with those feelings, and right up until he had to make decisions concerning his future. At times I could feel Ridge's confusion right along with him. In one scene, I was able to feel pain from not only Ridge, but Micah as well.
If there was anything holding this book back, it would be the lack of an epilogue, a few minor inconsistencies, and some editing errors, but truly these were not enough to detract from the wonderful and emotional writing. I absolutely loved this story and look forward to reading more by this author.
Book Links:
Rach