An Exaltation of Larks by Suanne Laqueur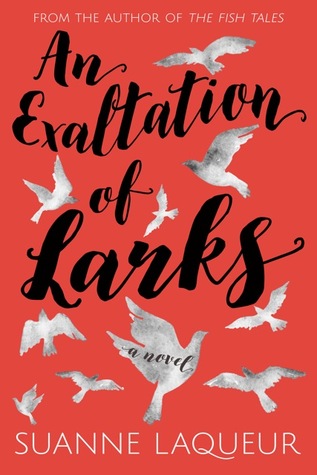 5 out of 5 Stars
*I was provided a copy of An Exaltation of Larks by the author in exchange for an honest review. I am not compensated for my honest opinion.*
Alex Penda's life is forever changed at the age of eleven, and though these changes will haunt him for years to come, he makes the best of it. A new country, new friends, ultimately a new family, and eventually a wife.
Valerie Lark comes from a prominent family in a quiet town, but Alex shakes up her world when she's only twelve years old. They live their lives separately but connected until the time is right for them to be together.
Javier Landes is one of New York City's top male escorts. Disowned from his family at the age of seventeen, Jav is unapologetic about the life he leads in order to make ends meet. He's good at what he does, but love is no friend of Jav's.
Lives cross paths and bonds are formed and strengthened. Everyone has something that shapes their life, and it dictates who we are and how we respond. An Exaltation of Larks follows the journeys of three seemingly different but strangely bonded people through life, love, hardships, and loyalty.
This novel takes you through three decades and across two continents, an intricately woven look at the lives of Alex, Valerie, and Jav. It's an amazingly different type of story, showing us the events that formed the characters into who they become. Their lives intersect and diverge, but it's in the divergence where the intersections make the most sense.
Ms. Laqueur's fifth novel is a masterpiece of life. It's brutally honest; life isn't always pretty, and this author doesn't withhold the ugly parts. Sometimes we make wrong decisions, but our mistakes are ours to own. The characters in this book are perfectly flawed—real human beings who have been molded by their circumstances and relationships. How they interact and the story they create made for one of the most fascinating books I've ever read.
Each main character is interesting in their own right, and there is no rooting for any one person to come out ahead. Life is not always filled with simple choices, and loving each character equally made it all the more heart-wrenching to witness their ups and downs. I was fully engaged in the world the author created, feeling like a fly on the wall in every scene. I laughed and cried right along with Alex, Val, and Jav.
And if the story of the three main characters isn't enough, Ms. Laqueur has a way of incorporating secondary characters into the plot that makes you love them too and want to know more. If she were to write a book about any of the secondary characters in this book, I have no doubt I'd be hanging on every word of it just the same as I did with this book.
Suanne Laqueur is a must-read author, and this latest book is no exception. It deserves more than 5 stars.
An Exaltation of Larks will be released on November 22, 2016 but can be pre-ordered from your favorite retailer now. All of my reviews of Ms. Laqueur's works can be found by selecting her name from the Author Spotlight tab.
Book Links:
Rach