Touch of Trouble (Touch Series Book 4 by Cara Dee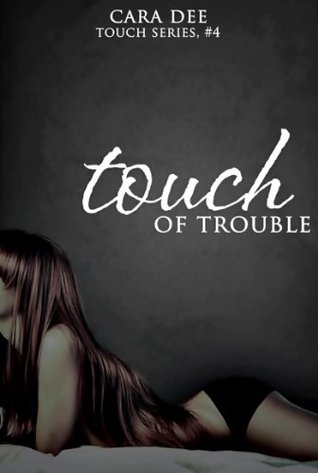 4 out of 5 Stars
*I was provided a copy of Touch of Trouble by the author in exchange for an honest review. I am not compensated for my honest opinion.*
Kayla Brandon has finally found a place where she completely fits in, both in her kinky lifestyle and in love. Nicholas Ford is the perfect Daddy for this little girl, and she's ready to spend forever with him. But first she'll have to make peace with her demons from the past. And a little matchmaking along the way won't hurt.
Touch of Trouble is the 4th book in the Touch series and is best read in order with the other books of the series. Nicholas and Kayla's relationship began in book 1, and now Kayla has to face her family in order to move forward with Nicholas.
I enjoy Ms. Dee's writing tremendously, and this book is no exception. Her characters are real people and her kink is realistic. She doesn't skirt around the rules of the BDSM lifestyle and offers readers what feels like a true glimpse into various kinks. It's always hot and entertaining.
I can appreciate that different kinks are for different people, and unfortunately this one just isn't for me. I don't mind reading about Daddies and littles, but I have a difficult time getting in the mind of a little. I enjoyed the first book of the story more because it was from Nicholas' point of view. With this book being told from Kayla's point of view, I couldn't connect as well with her even though I like her character in all the other books.
Overall, it was an integral part of the series as a whole and well-written. I enjoyed the other characters at Switch, and look forward to the stories that follow.
All of my reviews of Ms. Dee's works can be found by selecting her name from the Author Spotlight tab.
Book Links:
Rach