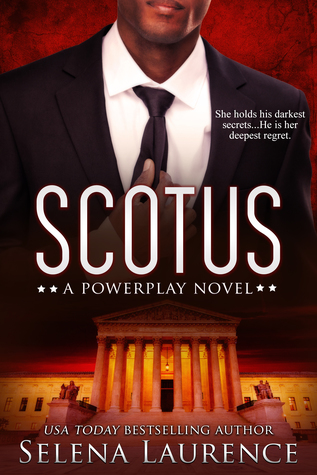 5 out of 5 Stars
*I was provided a copy of SCOTUS by the author in exchange for an honest review. I am not compensated for my honest opinion.*
If you're looking for a romance you can really sink your teeth into, look no further than Selena Laurence's SCOTUS. This Powerplay novel is a standalone political romance that truly packs a punch, dealing with some serious current issues like racism and political scandals and featuring an interracial couple. It's an emotional second-chance romance that will keep you turning the pages right up to the end.
Teague Roberts has had his eye on becoming a Supreme Court Justice since he was a little kid growing up in a neighborhood filled with gangs and violence. All his life he's been trying to get out of the shadow of his upbringing, but he'll never really be able to forget where he's from. Just as he's on the cusp of getting everything he's ever wanted, a blast from his past shows up and threatens to ruin it all.
Deanna Forbes was once engaged to Teague, but now she's assigned to report on him as the president's Supreme Court nominee. Her boss wants her to find a scandal, but Teague appears squeaky clean on the outside. She's the only person who knows his darkest secret and could ruin his entire career. Deanna already has sins of the past to atone for. Despite having never stopped loving Teague, she'll never be able to forgive herself for what she did to him twelve years ago.
The way the author handled the racial issues in this book was both heartbreaking and brilliant. The reader gets both perspectives, with Deanna having been raised by parents who wouldn't accept a black man for their son-in-law and Teague struggling to overcome every racial roadblock thrown in front of him.
Teague's character was so complex I couldn't help but love him right from the start. On the outside, he was a successful attorney wearing power suits and working eighty hours a week. On the inside, he was still the kid who grew up in a rough neighborhood and was used to defending himself, sometimes for no other reason than the color of his skin. No power suit would change the perception of some people, and throughout the story Teague had to accept this and find ways to overcome it.
Deanna was intriguing on her own as well. It wasn't long after letting go of Teague the first time that she realized it was the mistake of a lifetime. She spent the next twelve years trying to make up for it any way she could. And once Teague was back in her life, she was going to do whatever she could to right her past wrongs.
The emotion in this book was off the charts, and it ran the gamut of heartfelt to heartbreaking and everything in between. I was so emotionally connected to these characters that I hurt for them and could feel every bit of their pain. Even a secondary character brought me to tears several times.
I have read quite a few books by Ms. Laurence and truly enjoy her writing, but this one is her absolute best. The present-day issues and emotional journey will stay with me for a long time to come.
You can find more of my reviews of Ms. Laurence's books under the Author Spotlight tab.
Book Links:
Rach